WHITE LABEL WEBSITE BUILDER WITHOUT LIMITATIONS
Your brand, your pricing, your rules!
Do you want your own platform for your clients? Simvoly is in the top 3 website builders on the market and you can use it to grow your online business.
SEAMLESS WHITE LABEL MANAGEMENT
Manage and track all the registrations and subscriptions on your platform. Control every little aspect of your brand and identity. Grant access to your teammates and add restrictions.
You get your dedicated reseller copy with unlimited hosting and instant updates.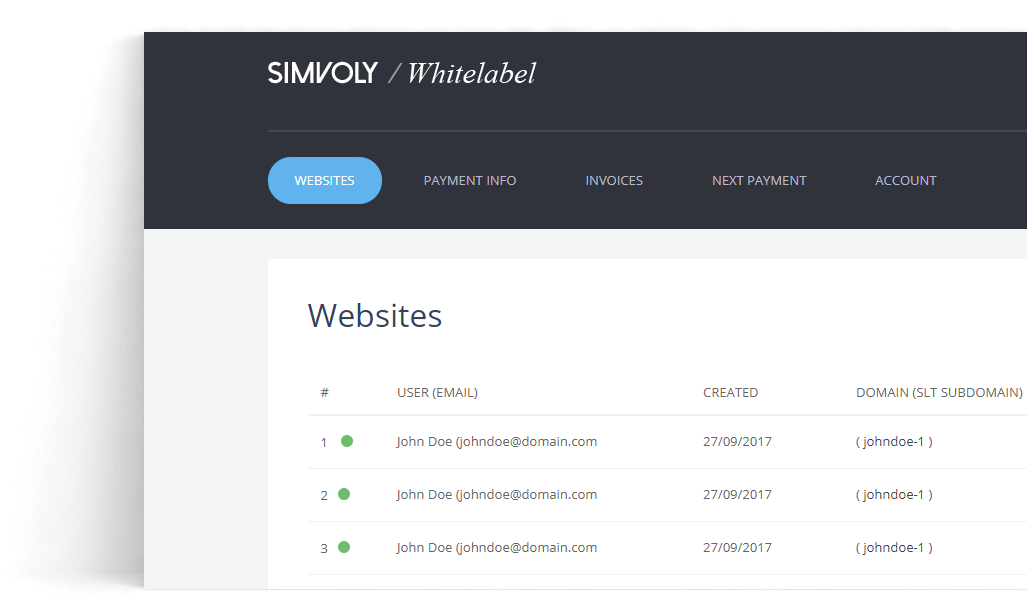 NEED A RELIABLE PLATFORM FOR YOUR CLIENT'S WEBSITES?
With our white label website builder you can cut the development time multiple times. You don't have to bother with hosting, broken plugins and bad support.
Our white label has it all - super fast Amazon Server, priority support and the ability to modify the builder the way you want.
$

299

/year
$

199

/year
+ subscription for each paying customers with

35% discount
You can set your own pricing with no limitation!

$
5.85
-35%
/month
(annual subscription)
or $7.80 month-to-month



$
9.10
-35%
/month
(annual subscription)
or $11.70 month-to-month
$
14.30
-35%
/month
(annual subscription)
or $16.90 month-to-month



Set your own pricing for the white label. Your builder, your rules.
Track your customers, their websites and detailed permissions on what they can access.

Get instant platform updates on your white label and suggestion board on new features.

As a partner you receive 35% discount on all plans for your customers.

Give permissions and access levels to your partners or employees.

Our helpful staff will try to help you along the way with anything we can.

HELP US BUILD THE PERFECT WHITE LABEL WEBSITE BUILDER FOR YOU
Hop on the journey get
$100 discount
in appreciation of your commitment with us.
You can also leave your suggestions and requests for the white-label functionality.
Be first on the line!
Interested and want to keep an eye on the progress?