Tell Your Story with a Beautiful Website
Share your passions to the world with Simvoly's beautiful website builder. Build pages, online stores, blogs, galleries with a few mouse clicks.
Simple Customization
Simvoly is easy to use builder you can edit, move or style everything. No codding required!

All in One
Update your content, build pages, track traffic, manage your form messages, blogging, galeries and more.

Craft your Simvoly website with easy drag & drop widgets. Create various layouts and versions to see which one fits your idea best.
There are tons of beautifully tailored sections that you can add with few clicks. Come and try it now for free.
Use Simvoly to create your online store
Do it the way you want. You have full control over products, discounts, orders, emails and many more. Build and grow your business with no effort.
Secure Payments
All transactions are encrypted and secure. You can accept payments with various methods (credit cards, paypal, bank transfer and many more)

Photos, Videos, Galleries...
You can put featured image, videos or galleries to your posts. It's simple and easy.

Comments
Enable comments or set a comment approval for your posts.

Social Share
You have social share buttons on each of your posts to reach as much exposure as you can.

Automatic SSL certificates
Our most important goals are simplicity and security.

That's why all Simvoly and third party domains connected to a website are automatically secured with a SSL certificate for free.
Want to know when and how many visits you got each day?
Simvoly Analytics let you track your traffic, which are the most popular pages, where your traffic is coming from, what devices are they using and other usefull statistics.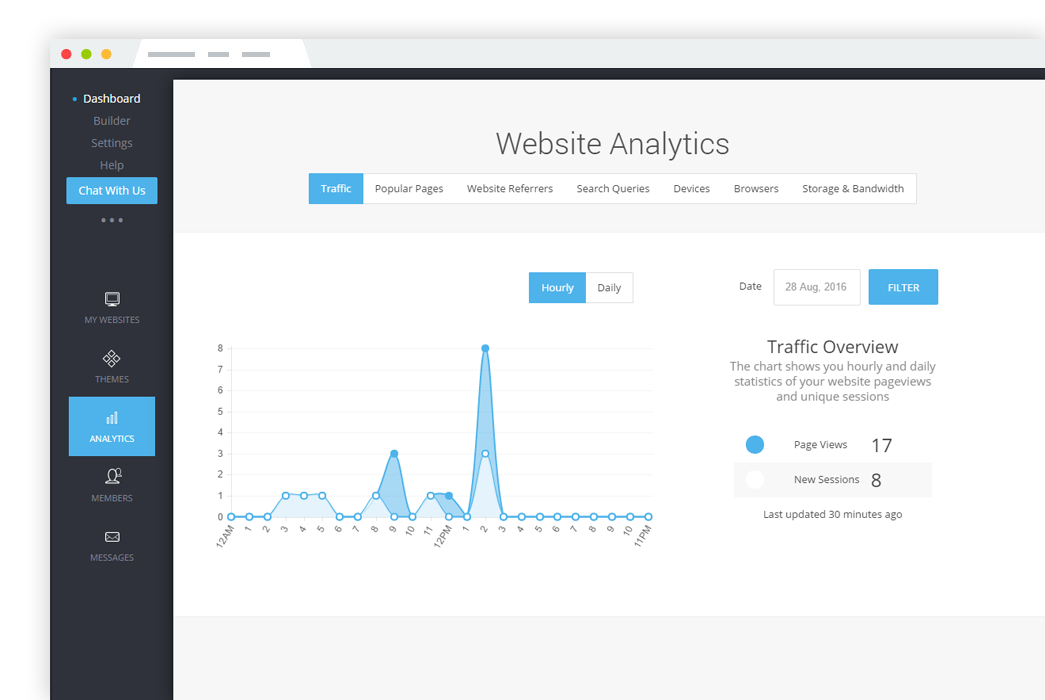 Beautiful Themes for Your Website
Simvoly themes can fit any idea you may have. Check out some of them and select the best fit.
Try it for free with a 14 day trial. No credit cards.
Our customer service would be delighted to help you with anything you need