Create a Beautiful Website
in Seconds
Show your ideas to the world.
Create beautiful websites, blogs, galleries and more with simple drag & drop.
Build Your Dream Website
Creative page designs, image galleries, beautiful blogs, it all comes with Simvoly. Simple drag & drop content arrangement, mobile ready, tons of easy-to-customize features.

Fast and Secure Hosting
Simvoly hosts everything on secure, fast and reliable hosting with 99.99% uptime and daily data backups.

Creating a website with Simvoly is so simple, everything happens within a few clicks of your mouse. Edit your content and arrange your pages exactly the way you want.
Basic Widgets
Use simple widgets to add forms, text, icons, images, sliders, videos and tons of other stuff

Widget Blocks
These are already made who sections of widgets that you don't have to build yourself. They are easy to use and with tons of different designs.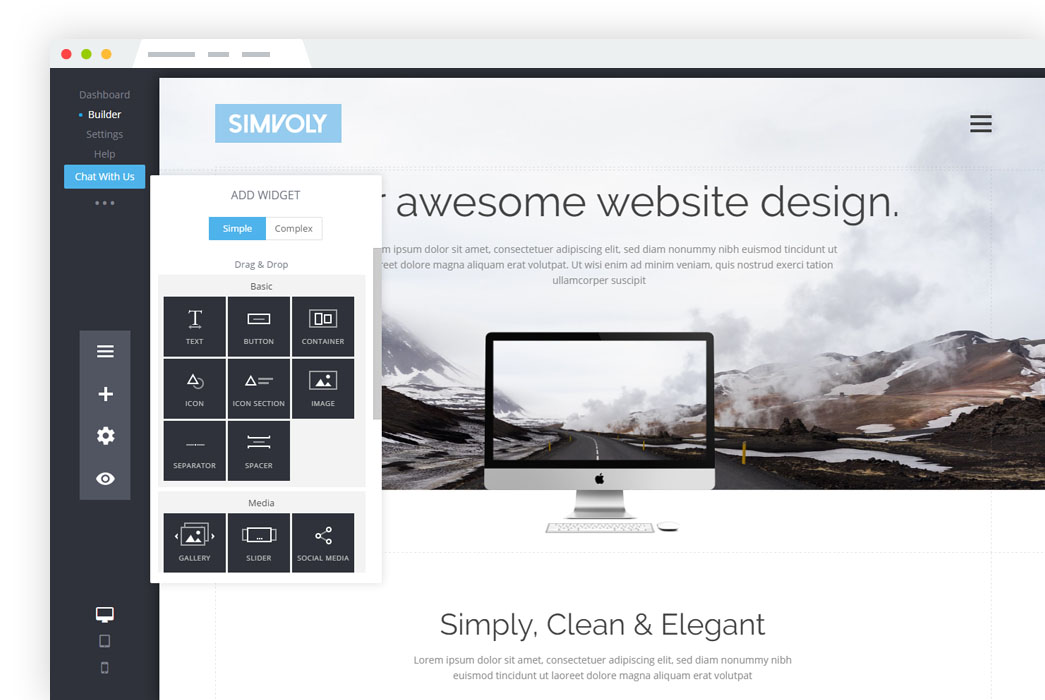 Beautiful Themes for Your Ideas
Simvoly themes can fit any website you might want to create. Check out some of them and select the best fit.
Try it for free with a 14-day trial. No credit cards.
Our customer service would be delighted to help you with anything you need.

Fast & Personal help with

our
Live Chat Customer Support
Simvoly offers Live Chat, an option that almost no website builder on the market offers. Our customer support team gives a special care to every chat they get. Don't hesitate to ask us anything.